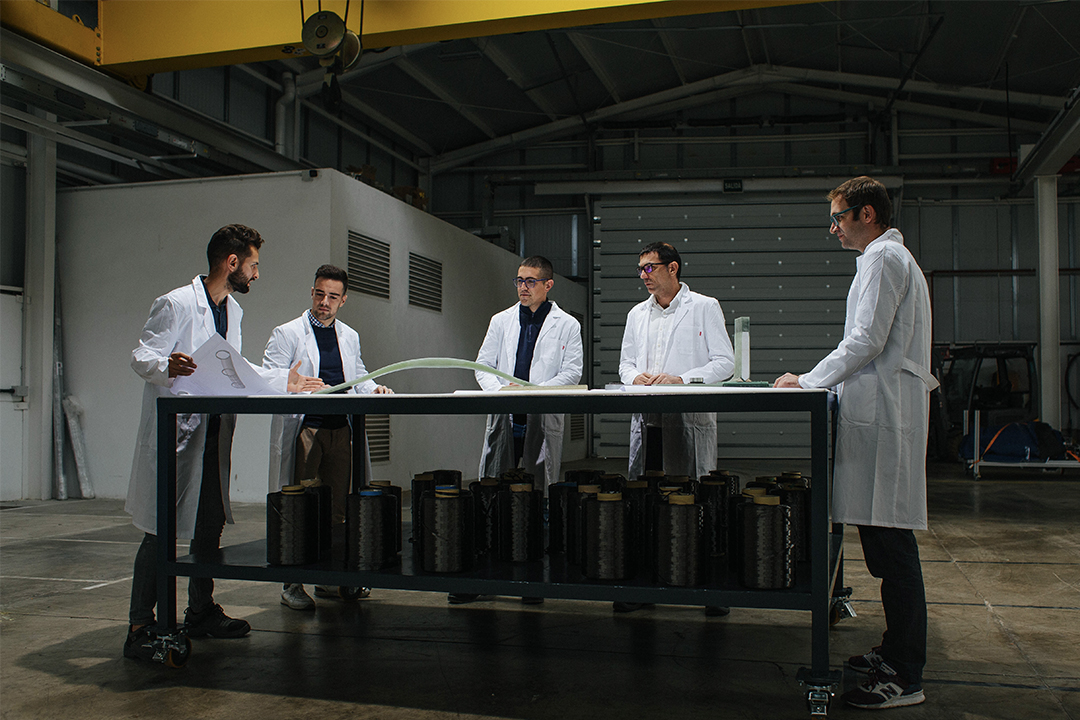 THIS IS HOW A LIGHTER, BRIGHTER AND MORE SUSTAINABLE FUTURE IS BEING SHAPED.
We are at a critical moment in history. Every day we decide the world we will leave to future generations, and the challenges are more significant and complex than ever.
Sustainability is no longer a question of the future but a necessity to be implemented and ensured in the present. 
To achieve this and solve all the problems we face as a civilization, we need to opt for new, lighter, more sustainable, and environmentally friendly solutions. And in that sense, advanced composite materials are a clear and decisive step in that direction. 
However, to build the world of the future, we cannot use the materials and techniques of the past. This is part of our core philosophy at ZIUR Composite Solutions, and it is precisely in helping to build that world of the future that we focus our daily efforts, hand in hand with our partners and customers.
Our goal is to extend the use of composite materials in as many industries as possible to bring us closer to a lighter and more sustainable future. That's why at ZIUR, we like to say that we focus on helping build a better future and not just developing composite-based products. 
Since our inception, we have known that we must be catalysts for change by using lighter and more sustainable materials to build a more sustainable and brighter future for everyone.
So every challenge related to sustainability we take as an opportunity to inspire innovation and provide creative solutions. Because for us, what we do every day is important (truly important), but the future we help build is even more. A bright and hopeful future in which the significant challenges we face today will be overcome with creativity and innovation.
WHAT SETS US APART
As a company, our vision is to be the global leader in manufacturing lightweight solutions based on advanced materials to help build a more sustainable world. As a team, our purpose is to drive that light, sustainable future. 
To reach that goal, we have five core values that guide us in our daily work and act as the North Star that guides us in everything we do. These values describe our way of understanding the business world and demonstrate our character and our personality when working on all the projects we are involved in.
Innovation: As previously said, we cannot build tomorrow's world with yesterday's materials and tools. That is why innovation is part of our DNA and is present in everything we do.
Honesty: Building trust-based bonds is the only way to generate lasting relationships. Our commitment and closeness seek to develop trust that translates into lasting and honest relationships.
Simplicity: Less is more, especially in our sector. Less weight, more strength, resistance, lightness… Creativity is the tool that leads us to functional and straightforward results that improve what already exists.
Team: Teamwork is what makes us competitive and innovative. We like to get involved as a member of our customer's team to come up with the most innovative solutions together.
Optimism: We are committed to a lighter, sustainable and brighter future, and that makes us optimistic and hopeful that together, we will solve all the challenges we face. That is why we work every day and are passionate about everything we do.
These values help us forge a personality that defines us and helps us relate to our partners, clients, and collaborators, becoming a way of being that allows us to differentiate ourselves. Hence, when we are asked what we are like, the answer usually revolves around our five personality attributes:
Creative: If today's world is not what it used to be, neither will the solutions of the past lead us to any result. At ZIUR, we are committed to creativity and lateral thinking to reach innovative results that provide new visions.
Reliable: As a result of the honesty with which we deal with our clients, we become a partner they can trust. Trust that the proposed solution will be the best possible and that the final product will be of the highest quality.
Straightforward: Experience and know-how make us see things clearly and be frank and direct. If it can be improved, we do it. If it can be optimized, we do it. No hesitation.
Collaborative: We are proactive in seeking synergies that help us deliver the best possible result. For us, unity is strength internally and when co-creating with our partners and clients, giving the best of ourselves.
Determined: Our vision is clear, and we have complete confidence that our skills and commitment to excellence will lead us to the expected destination. It may sound idealistic, but only by dreaming will we succeed in creating a better world.
So if, like us, you are among those who believe that a better future for everyone, including the planet itself, is possible – and even necessary – you can count on us. We will do our best to help you shape your projects with everything related to the search for innovative solutions based on composite and lightweight materials, regardless of your industry and specific need. By doing so, you will not only be adding your company's name to the list of those who contribute to constructing that hopeful future. You will also be counting on a team dedicated to materializing your ideas with a unique passion and expertise, capable of taking your project to the next level.